WELCOME
Thank you France! It may not be everyones favourite Grand Prix but there is something special about Le Mans. A raw and raucous atmosphere, again not to everyones taste, at an historic venue on the warmest day of the week. Perfect for me. It might also have been the bookies favourite, I'll wager, because race predictions were tough to call accurately by the so-called experts.
It was also a weekend that Yamaha underlined a shift of momentum away from the Honda domination of recent years in MotoGP. Lorenzo and Rossi top the riders championship, with Yamaha well and truely top manufacturer ahead of Ducati. Honda are only third. There are, of course, still 13 rounds to go and with Dani Pedrosa just back from arm surgery and defending wonderkid Marc Marquez slightly out of sorts, you can expect a Honda fight back. The next installment could be magic. Mugello is on Sunday 31st May. I can't wait!!
And, after a bit of kerfuffle, it's back to Silverstone for the British MotoGP on August 30th! With the Circuit of Wales project delayed by red tape, and the contract dead between CofW (promoters for at least 5 years) and Donington Park, it gave the new management team at Silverstone a golden opportunity to regain the initiative. And they have. For two years! Perhaps now we can all look forward to a bit of stability and a cracking British GP, and a state of the art new track in South Wales for 2017?!

British MotoGP promoters, Circuit of Wales, recently held a press conference at the Piccadilly Sports Bar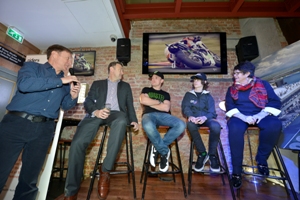 in Rupert Street, London, underlining their aspirations for young riders in Britain in the future. They also reiterated their position regarding the public enquiry held in March, and were confident work would start on the track in South Wales later this year. Hosted by KH, on stage were Chris Herring of CofW and guests of honour, Sam Lowes, 24, current SpeedUp Moto2 rider, Rory Skinner, 13, Red Bull Rookie contender and Riders for Health CEO, Andrea Coleman.


This could be a classic year of MotoGP, I hope you enjoy our coverage. If you see me at any of the tracks, please don't be shy!
See you soon
Cheers
Keith