WELCOME
Sachsenring may not be every racers favourite track but perhaps Team Honda think differently after another dominant MotoGP performance on the short track in Saxony. We now enter the MotoGP summer break as Valentino Rossi heads towards a tenth world title. It's exactly half distance for the premier bike race series and team speculation for 2016 has begun, most interesting for us Brits is Sam Lowes. A big money MotoGP Aprilia deal looks likely, but only if he turns down a Marc VDS Racing deal for Moto2! Danny Kents Leopard team have asked for two Moto2 entries for next year, so no prizes for guessing who one of those might be for. And with Bradley Smith outperforming his team mate at Tech 3 surely he will find a deal that his talent deserves?
Are we in a golden era of bike Grand Prix racing? It certainly looks like it to me. Has there ever been a closer, more competitive, race season across three classes of bikes? I don't think so! I, for one, am extremely happy to be a part of it. See you for round 10 at Indy on August 9th
Don't forget that the 2015 British Grand Prix starts early! Day of Champions is on Thursday 27th August which supports MotoGP's official charity, Riders for Health. I'm hosting some of the stage this year, in particular a new feature called Unsung Heroes, so we look forward to your company for a great 'long weekend'.
And, after a bit of kerfuffle, it's back to Silverstone for the British MotoGP on August 30th! With the Circuit of Wales project delayed by red tape, and the contract dead between CofW (promoters for at least 5 years) and Donington Park, it gave the new management team at Silverstone a golden opportunity to regain the initiative. And they have. For two years! Perhaps now we can all look forward to a bit of stability and a cracking British GP, and a state of the art new track in South Wales for 2017?!

British MotoGP promoters, Circuit of Wales, recently held a press conference at the Piccadilly Sports Bar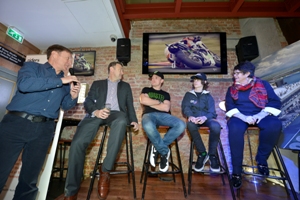 in Rupert Street, London, underlining their aspirations for young riders in Britain in the future. They also reiterated their position regarding the public enquiry held in March, and were confident work would start on the track in South Wales later this year. Hosted by KH, on stage were Chris Herring of CofW and guests of honour, Sam Lowes, 24, current SpeedUp Moto2 rider, Rory Skinner, 13, Red Bull Rookie contender and Riders for Health CEO, Andrea Coleman.


I hope you're enjoying the year so far, if you see me at any of the tracks, please don't be shy!
All the best
See you soon
Cheers
Keith