WELCOME
The Czech Grand Prix at Brno was attended by nearly a quarter of a million people over 3 days of red hot weather, and the good news is that we will all be back again next year. This year's event seemed in doubt but after a last minute deal the fans turned out in force and the scheduled thunder storms stayed away making for another classic event.
The Moto3 race was again the best of the day. After two 4 bike pile ups on the opening lap brought out the red flag a shortened 12 lap race was restarted from the original grid positions. At the flag Britain's Dannny Kent saw his lead in the championship cut by a further 11 points, (he lost 10 in Indy), as second placed charger Enea Bastianini kept his cool. Kent was 7th.
In MotoGP, Jorge Lorenzo always looked unbeatable over the 3 days of practice, qualifying and race. And so it proved as he paced himself perfectly over second placed Marc Marquez. Two things were significant to me about third placed Valentino Rossi. He is now equal on 211 points with Lorenzo but is effectively behind the Spaniard because he has less wins. The second point is the drained look on the legendary Italians face in Parc Ferme. His look said to me that he had given it his all, the bike was ok, and he had come up short. That 10th heroic world title for 'The Doctor' is looking to be a very hard prospect, what a way to set up the British Grand Prix at Silverstone in two weeks time! We could be in for a classic. See you there.
Don't forget that the 2015 British Grand Prix starts early! Day of Champions is on Thursday 27th August which supports MotoGP's official charity, Riders for Health. I'm hosting some of the stage this year, in particular a new feature called Unsung Heroes, so we look forward to your company for a great 'long weekend'.

British MotoGP promoters, Circuit of Wales, held a press conference at the Piccadilly Sports Bar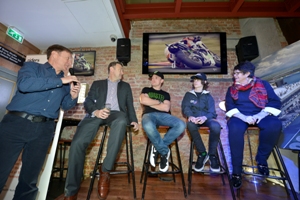 in Rupert Street, London, underlining their aspirations for young riders in Britain in the future. They also reiterated their position regarding the public enquiry held in March, and were confident work would start on the track in South Wales later this year. Hosted by KH, on stage were Chris Herring of CofW and guests of honour, Sam Lowes, 24, current SpeedUp Moto2 rider, Rory Skinner, 13, Red Bull Rookie contender and Riders for Health CEO, Andrea Coleman.
Update 24/08/15: The CofW Public Enquiry announcement is still outstanding.


I hope you're enjoying the year so far, if you see me at any of the tracks, please don't be shy!
All the best
See you soon
Cheers
Keith