WELCOME
Yamaha may have been rueing their strategy back in Misano at round 13 of the MotoGP championship, but their decision to nominate Motorland Aragon as a test track for 2015 was a master stroke. It's a track that Honda have been strong and Yamaha needed to close the gap at round 14 this year. Despite Marc Marquez annihilating the outright circuit record on his way to pole position, Jorge Lorenzo was close enough to worry Marquez into another qualifying run which ended with him in the gravel trap. In the race, Lorenzo's lightening start saw Marquez push hard on the first two laps before losing the front end at turn 12 and crashing out. That set Lorenzo up for an easy win, but it was the battle for second place that had the crowd on their feet. Dani Pedrosa was hounded for most of the race until Valentino Rossi made his move, Pedrosa fought like a tiger as they both swapped places several times before the Spaniard dealt the final blow and took second place. It meant that Lorenzo gained 9 points over series leader and team mate Rossi. It's now just 14 points between the factory Yamaha men with 4 races left. Game on!
Defending Moto2 world champion Tito Rabat took only his second win of the year, with run away series leader Johann Zarco struggling down in 6th place. It means the Frenchman will have to wait at least another round before lifting his first world title.
The drama in Moto3 reached fever pitch as Enea Bastianini took himself out of the race, leaving Britain's Danny Kent a certain 16 points with a third place finish... until he made a huge mistake at the final turn of the last lap hit the deck and scored zero. The gap between the two of them is still 55 points!

British MotoGP promoters, Circuit of Wales, held a press conference at the Piccadilly Sports Bar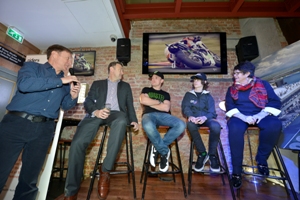 in Rupert Street, London, underlining their aspirations for young riders in Britain in the future. They also reiterated their position regarding the public enquiry held in March, and were confident work would start on the track in South Wales later this year. Hosted by KH, on stage were Chris Herring of CofW and guests of honour, Sam Lowes, 24, current SpeedUp Moto2 rider, Rory Skinner, 13, Red Bull Rookie contender and Riders for Health CEO, Andrea Coleman.
Update 28/08/15: Rebecca Evans AM, Deputy Minister for Farming and Food, has said that she is 'minded to grant the S16 application' subject to Heads Of The Valleys Developement Company completing previously agreed conditions regarding the commoners' rights. HOTVDC can now exercise the agreements already in place with the commoners allowing for formal approval.

I hope you're enjoying this fantastic year of Grand Prix racing and, if you see me at any of the tracks, please don't be shy!
All the best
See you soon
Cheers
Keith