WELCOME
Anti Social Media?

The 2015 MotoGP season was a cracker, if divisive. Lorenzo is champ, but the war between Rossi and Marquez continues to make headlines. Both have pulled dodgy stunts throughout their careers but their last 3 races polarised the hatred of a moronic minority. The championship outcome and reality of fact was disappointing for many, even prompting ludicrous, (and surely unsustainable), declarations of abstinence from next season.

Social Media's minefield of opinion means that publically expressing a view can also feel like you're risking a backlash. Have you ever thought about making a comment in public only to dilute your words or bite your lip completely? Are the majority of good people keeping shtoom, muted by a possible reaction to their true thoughts? It shouldn't be this way.

Bike fans are the fairest in sport, knowing perfectly where the boundary of banter and decency is, and where fair comment or criticism morphs unpleasantly into abuse. Unfortunately it seems MotoGP has been infiltrated lately by a tribal element of people more interested in their 'man' than in our sport.

MotoGP is the greatest competition in the world and will be again next year. Has there ever been a time when fans can be so directly involved? Social Media gives instant free access to nearly everyone on the paddock side of the fence. Don't be put off by a minority with negative comments, get involved, everyone wants to hear from you. The future is bright, and I'm looking forward to it!

*


2015 - The Final Reckoning

It's a Grand Prix season we will remember for the wrong reasons. A spat between a superstar and his former protege over the final 3 races turned a great year toxic. Who did or didn't do what, when and why will never be answered to everyones satisfaction. Ever!

Fans, experts and riders are split, with MotoGP the loser in true sporting terms. Was it a misunderstanding back on Phillip Island or a conspiracy against living legend Valentino Rossi? The flames of opinion were fanned by the the top 3 riders concerned while the 'media' enjoyed the biggest bike viewing figures of recent times. But who wants to be involved with a sport that has had it's integrity smashed?

After the Valencian flag Rossi berated Carmelo Espeleta, (Dorna CEO), "I told you this would happen", he spat through a fixed smile, convinced, like many, that Marquez acted as Lorenzo's bodyguard in the final laps. Beaten in the court of arbitration and forced to start from the back row of the grid, Rossi could just about see what was going on from his eventual 4th place, powerless and reliant, ironically, on the Hondas to win him a tenth title. Was it payback for Rossi's Sepang press conference vitriol and red mist turn 14 move on Marquez? If it was, it was a bloody good effort!

It's sad. I console myself by harping back to the manners of great men past, fierce competitors with respect on and off track. Hailwood, Read, Ivy, even Sheene and Roberts! Or am I wearing time tinted glasses? Perhaps the only thing that has really changed is the technology that brings us instantly the heat-of-the-moment outbursts and multi view analysis? One thing is fact, Jorge Lorenzo is champion, he was fastest more often than anyone else in 2015. He may not be the most popular champion, but he's got the medal.

*

CONGRATULATIONS Danny Kent - WORLD CHAMPION!

While the worlds media focussed on the battle in MotoGP, Danny Kent finally took the Moto3 world title at 21 years old, breaking a 38 year wait for a British world champion in Grand Prix. Barry Sheene last managed the feat, that was in the 500cc class in 1977, but you have to go back to Dave Simmonds in 1969 to find the last British winner of the 'lightweight' class!

The Wiltshireman stays with Kieffer Racing next year, who will again be resplendant in Leopard colours, but will move up to the Moto2 class. Good luck Danny!

Roll on 2016!

*

Sensational Sepang

Valentino Rossi surprised everyone at Thursday's Malaysian Grand Prix press conference with an attack on Marc Marquez. The press corp reaction ranged from nervous laughter to excited expectation. Sunday at steamy Sepang would herald a new low between two of the greatest MotoGP racers of our time, race day was to be the day of reckoning.

My Twitter reaction at the time of VR's outburst was; "he tossed the grenade... but will it roll back at him". It did, and some! That story you know about, but how did you read it as it actually happened?

My words will always provoke a reaction, the power of VR and his legions of fans mute criticism from even the Italian press. But I've no agenda or reason to be anything but honest in my commentary, and I'm not scared by a reaction to it. I say what I see. I couldn't know the actual penalty, as Dani Pedrosa said later, "the rule book is too 'grey' in these areas", but I was absolutely positive that Vale would be penalised.

I have been asked if I have changed my opinion? I would love to, I wish it had been the fantastic race it was shaping up to be, but this was about two men that would just not give way. One of them broke an actual rule, the other broke an unwritten one.

It was sad to witness the post event conferences, with both sides recollections now with added 'spin', like children trying to justify their stories. Some say VR was provoked into his actions, maybe, in the old days he might have got away with it, but not in the days that Marquez will inherit.

Valentino Rossi aims to win his tenth title at all costs. It could be from the back of the grid, or the front of a courtroom. It could be Sunday in Valencia or who-knows-when at the Court of Arbitration for Sport in Switzerland. For the sake of MotoGP I hope it's Sunday in Valencia!

*

 

Wow! What a weekend on Phillip Island in Australia for round 16 of the Grand Prix.

Race day started fine, and just got better. The warmest day of the weekend gave us some of the hotest action of the year. Danny Kent was looking forward to becoming the first British world champion since Barry Sheene, a gap of 38 years. But, after setting pole position and recovering from a subsequent 2 row grid penalty, being rammed by Francesco Bagnaia and finally colliding with Nicco Antonelli in a crash that also took out his main rival Enea Bastianini. He scored no points and saw winner Miguel Oliveira emerge as his new closest challenger as we roll on to Malaysia next week. In Moto2, Sam Lowes brought British fans back from the edge of sleep with a fine second place.

But it was in MotoGP that the Island caught fire. A four way scrap that had  both the Yamaha men, the only riders that can take the title, in a major squabble for points assisted by Andrea Iannone on a GP15 Ducati and outgoing champion Marc Marquez who had never even finished a MotoGP race here since joining the class in 2013. What a race! Marc came out on top while Iannone forced more points between Rossi and Lorenzo. Just eleven points separate them with two rounds left.

 

*

 

It is rare to predict accurately what will happen in Grand Prix bike racing, but the Japanese GP at Motegi saw the rain come at the time it was expected and stop at the time the locals had forecast too. Bad luck for Jorge Lorenzo. He made his usual incredibly fast first few laps to build a 3.5s lead, which he maintained until the track began to dry. Cue the second accurate prediction, if the conditions were right. Valentino Rossi began to close the gap as Jorge used up his front Bridgestone tyre significantly more than his pursuers. But neither Yamaha men might have expected (again) the charge from a long way back (in racing terms) of Honda's Dani Pedrosa. After a fighting runner up slot in Aragon, Pedrosa was superb on his employers own track and had timed the use of his own tyres to perfection, passing first Rossi and then Lorenzo for the win. Tyred out Jorge had then to concede second place and another 4 points to Valentino as the fight for the 2015 MotoGP title moves to Phillip Island in Australia. Only a Yamaha rider can now take this years top bike title. Defending champ Marc Marquez was unusually subdued in Japan having suffered yet another training injury, he finished 4th. Motegi and Phillip Island are 2 tracks he's never won on, he'll want to make sure his season ends on a 'high'! There will be fireworks at the final 3 rounds in Phillip Island, Sepang and Valencia!

In Moto2, another defending champion, Tito Rabat, was also nursing a training injury, a broken arm, which saw him withdraw from the Japanese race after practice and hand the 2015 world title to classy fast Frenchman Johann Zarco. Zarco celebrated his world title with a win and a customary back-flip, this time off the tank of his Ayo Motorsport Kalex.

And in Moto3, all eyes were focussed on title contenders Danny Kent and Enea Bastianini. Kent's steady opening laps were of concern but he eventually judged the tricky conditions, and the timing of his pass on his rival, perfectly to increase his lead in the chase by one point as they finished 6th and 7th at Motegi. Danny leads Enea by 56 points with just 75 still up for grabs.

*


British MotoGP promoters, Circuit of Wales, held a press conference at the Piccadilly Sports Bar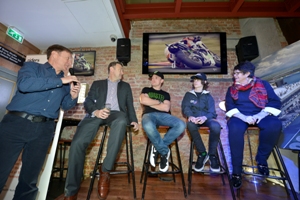 in Rupert Street, London, underlining their aspirations for young riders in Britain in the future. They also reiterated their position regarding the public enquiry held in March, and were confident work would start on the track in South Wales later this year. Hosted by KH, on stage were Chris Herring of CofW and guests of honour, Sam Lowes, 24, current SpeedUp Moto2 rider, Rory Skinner, 13, Red Bull Rookie contender and Riders for Health CEO, Andrea Coleman.
Update 28/08/15: Rebecca Evans AM, Deputy Minister for Farming and Food, has said that she is 'minded to grant the S16 application' subject to Heads Of The Valleys Developement Company completing previously agreed conditions regarding the commoners' rights. HOTVDC can now exercise the agreements already in place with the commoners allowing for formal approval.
Update 16/11/15: Final approval has been granted!

I hope you enjoyed this dramatic year of Grand Prix racing, I'll be back next year and look forward to seeing you again then.
Have a fantastic winter.
All the best
Cheers
Keith