Race Career
At 18 years of age, and after some silly stunts on the streets of Northamptonshire, I decided it was time to permanently move my antics to the race track. I'd already tried the Vic Camp Ducati School on Brands Hatch' Indy Circuit but the bikes were awful and the tuition basic. My second trip to 'school' ended in Maida Vale, north London, when I rammed my road bike into the side of an Algerian Embassy car at a junction and broke my thumb. Then, a stroke of luck; Bill Langley and Steve Trasler, two local racers, offered to give up some room in their van for me and a bike, and a dream became reality...

(1975) It was at Cadwell Park in Lincolnshire, on a recently purchased Crooks Suzuki,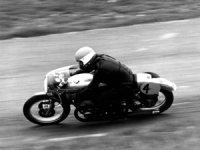 (a hybrid of the T500 twin cylinder production bike), wearing very second-hand black leathers and with long hair billowing behind my newly painted, (designed by me), AGV helmet, that my first race season began. (This is my first race picture - taken by Phil Masters at Mansfield Corner).

(1976) I had no money and was just a working lad, an apprentice mechanic for Wollaston Motors, famous for BMW now but back then it was British Leyland no less. Funds were tight, so a new road bike, (Norton Commando 750cc Interstate), the surf of Cornwall and a girl called Janice seemed higher priorities than racing and I missed an entire race season. It was still a great year, scorchingly hot, and I needed the experience!
(1977) Back to racing and I purchased my first proper race bike, an old TZ350 Yamaha, from Derek Huxley, (another racer). It was the beginning of a long love affair with Yamaha machinery and led to my first encounter with a man who would turn out to be one of my best friends, Arnold Fletcher of Len Manchester Motorcycles in Melton Mowbray. It was also the year that Welshman Jeff Webber gave me a little sponsorship, my first and, again, we are still firm friends to this day.
(1978) I'd worked hard over the winter and with another friend, Paul Irwin, had set up Midland Automatic Tran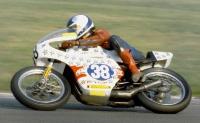 smissions in Kettering, (we fixed... automatic transmissions)! I'd also splashed out on a brand new TZ350 Yamaha and went on to win just about everything there was to win at club level, surprising myself and a few established racers on the way. At the end of '78 Arnold decided to give me a go on his awesome TZ750 Yamaha and, despite terrible winter conditions at Croft, I finished 3rd in the Plum Pudding races. I was now well and truly 'on the map'.
(1979) Living the Dream! Len Manchester Motorcycles was my new team, and winning the premier British Championship at my first attempt their reward. I raced for Britain in the Transatlantic Trophy for the first time too, where I was given race nu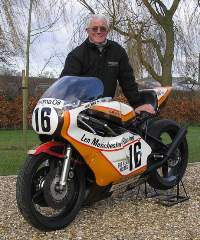 mber 16 and decided to keep it, wherever I could, throughout my career. Team captain Barry Sheene's first words to me? "Never fxxxing heard of ya". Welcome to the big time then !!  I received my first 'start' money, £25, which rose to nearly £3000, (per event), before being craftily phased out by the promotors over the next 4 years. This year was the first I'd traveled  on a plane, (Alitalia), the first time I'd been out of the country and enroute to my first race abroad, (the AGV Nations Cup, Imola, Italy). I also won a Grovewood Award, much coveted by up-and-coming young racers. (Pictured in 2007 at my home is Arnold Fletcher with my original TZ750 Len Manchester Yamaha).
(1980) I sold my share of Midland Automatic Transmissions to business partner Paul and became a full tim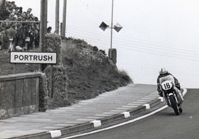 e racer. Still riding the same TZ750 Yamaha my biggest win of the year was on my debut at the International North West 200 on the roads of Northern Ireland, setting a new outright circuit lap record at 125.01mph in the feature race and beating former Grand Prix star and one of the sports nice guys, John Newbold, (#24), by a tyre width... www.bbc.co.uk/northernireland/nw200/clips/p007rbst
John was killed in 1982 at the bend I'd overtaken him two years previously, (Juniper - now slowed through a chicane), to take the win.  
(1981) With SDC Builders my new personal sponsors and Suzuki providing a basic RG500 Mk6 to go with out-going SDC rider Peter Melnik's old TZ350 Yamaha, the Grand Prix
series beckoned. Despite our tiny 'privateer' team the season high was second place in the 350cc British Grand Prix, behind the factory Kawasaki of world champion Anton Mang but in front of his team mate Jean Francois Balde and a host of top Grand Prix men of the time. All in front of 120,000 fans at Silverstone. We had a drink or two that night! Even after missing a few GPs I went on to finish 6th in the FIM 350cc World Championship.
(1982) Suzuki upped the ante and supplied Randy Mamola's one year old factory RG500s, and we dedicated much time, (and pain), to make them work for me, winning first time out in the UK. The biggest crash of my life,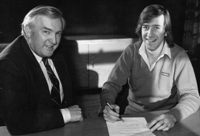 (over 170mph), came at the Austrian Grand Prix on the fearsome Salzburgring. I only broke a wrist, but it felt like much more! I missed a few races and 4 time world champ Kork Ballington, now on the factory Kawasaki 500, beat me to my remaining goal of the year, the Shellsport 500 title in Britain. (Pictured is team manager Rex White on signing my contract at Suzuki GB headquarters in Beddington Lane, Croyden).
(1983) Suzuki kept faith, providing two lovely RG500 Mk8 'customer' bikes with support for British races and a few Grand Prix, and I ran the team out of my home in Wollaston, Northants. The first big event of the year was at Donington Park in front of a live television audience for the ITV World of Sport race, it went rather well  http://www.youtube.com/watch?v=Q2Q80CcPz3Y&sns=em
But this was the year I learnt about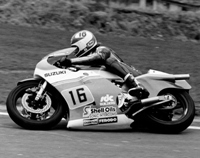 politics in sport. Sheene was now my team mate, and you didn't mess with the master! Despite the behind scenes political shenanigans and the bog standard machinery everything was good on track. I managed 5th at the French GP in Le Mans http://www.youtube.com/watch?feature=player_detailpage&v=NoyAdxS7d1M and won the premier championship in Britain, the MCN Masters, from Wayne Gardner. I didn't know it at the time, but this year was to be the zenith of my racing career.
(1984) With machine development at a stand-still at Suzuki I purchased at huge cost a new state-of-the-art RS500 Honda triple.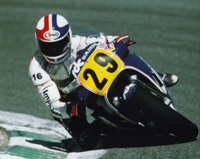 There were only two in Britain and expectations were fantastically high. I won first time out but at the time it was only me, (perhaps), that knew how hard I'd had to ride to get that first win! I won more races in Britain, and had a couple of good GP rides, but that bike burned cash faster than fuel and I was broke by close of business that year.
(1985) Bike shop owners and long-time friends Leonard Tompkins and Clive Simmons provided an FZ750 Yamaha for me to use in the Motor Cycle News Superstock Championship. Unbelievably, (it seems today), this was the top championship in Britain at the time and all the big names were in it to win it!  I now had no Grand Prix ride, so for my sponsor's pleasure at the British Grand Prix I borrowed a stock Suzuki production bike for a support race at Silverstone. To the surprise of some great proddy racers, and just about everyone else, I won in very wet conditions! But it was only a one off ride and I never tried racing a standard road bike again.
(1986) Suzuki had been the Superstock bike to beat the previous year so I joined in with my own new GSXR750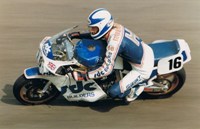 . Once again the MCN Superstock class was the top race series in Britain. It was basic, tough, fast and furious racing and nothing like Grand Prix. I had realised there was no way back to GP for me so the aim was to win what I'm in. Superstocks also provided an opportunity for new names to mix it with the established stars but the standard of riding could, ahem, lack a bit of finess. Good to watch though !  I finished 3rd again but was enjoying the experience of the unexpected.
(1987) I was employed for a pittance alongside the naturally talented Trevor Nation to race Loctite Yamahas in the Superst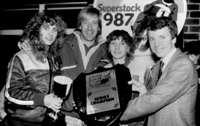 ocks. I finally won the series at the penultimate round at Cadwell Park after breaking my shoulder in a turn one melee and then riding Nation's bike in the race restart, (my bike was destroyed). It was no easy task as his machine was set up completely different to mine, but I won the race and the championship. Don't ask, I still don't know how!
(1988) Loctite Yamaha ran Bimota machinery for British and selected World Superbike rounds but, like most things Italian back then, the bikes were a little temperamental and our team lacked the funds and technical ability to develop the bikes. I was also defending my Superstock title. It was a tough year, the low point being a live BBC TV race at Cadwell Park where aspiring Kenny Irons hit the rear of my stuttering Bimota as I led the warm-up lap onto the back-straight and fell to his death. By the end of the season, with options short and finances deteriorating throughout the racing world, this proved to be my most difficult winter.
(1989) Britain was now in a deep recession and teams all over the world were disbanding, I was 32 years old, my first daughter was due and, so, the writing was on the wall. It was time to look at my other work more seriously....
Hello and welcome to a new full time career in television!


But that wasn't quite the end of my track career, I also had a brief flirtation with 'open-wheel' car racing that laste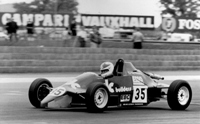 d just a few months in 1989 and I was very fortunate to 'race' against David Coulthard and Gil de Ferran et al during their formative years in Formula Ford. I have no comment to make about my own abilities, save as to say that my motorcycle skills were never likely to be surpassed by my car control. But it did give me an early respect for what top race car drivers can do, that respect remains firmly in place today.